First off, welcome to all the new lovely ladies in the audience! I'm so excited that you're here and hope you've enjoyed my tutorials over the last few days. Today, we're talking about making earwires (yes, I spell it as one word and I don't care, computer :P ). "Why the heck would you want to make your own ear wires, Alli?" Well, there are many reasons. Maybe you want something particular (we'll talk about those tomorrow) or maybe you want to make your earwires out of colored wire so they match something specific or maybe you're making jewelry in your underwear and your ran out of earwires and you don't want to put clothes on to go to the store... Whatever the case, we're gonna make some earwires! PS, these are actually slightly sturdier than most of the ones you buy because the ring where you attach the earring is closed, not open.
What you'll need:
Wire. As you all know by now, I prefer sterling. You can use anything. You can even get some colored wire at Michael's. You need about 2" (or 5 cm for my awesomely metric inclined friends)
A round tool. This can be something like a dowel or even better, your round nose pliers. Mine are slightly too small for the application. You'll see in a bit.
One pair of flush cutters. Always want the best pair. Same as when we were learning to make a bead charm.
One pair of round nose pliers. You need these in addition to the round tool. Invest in a good pair. They're my BFFs!
Two pairs of other pliers. As you can tell, I prefer my bent needle nose and my flat nose pliers. Whichever ones you have lying around the house will likely be okay. Just make sure they don't have ridges in them or you'll mar the metal. One set needs to be either long nose or needle nose (bent or straight, doesn't matter).
Sand paper. You don't need much. I use somewhere between a 200 and 600 grit for most of my sanding needs. For this application, a 200 grit is pretty good.
Optional Bench block and rawhide mallet. The necessity for this depends on how heavy your earrings are and how soft your metal is. If you want to harden your ear wire after you're done, this is a good plan. Your other option is to use your kitchen counter and a normal hammer. Put cloth down on your counter (to keep your counter in good shape) and wrap your hammer in craft foam. Or you can buy wire hardening blocks. I'm cheap, so I use the supplies that I already have.
1) At about 1/2" from one end, use your random round tool to make the area that will sit in your ear. Simply bend your wire so that the two ends are about parallel.
2 and 3) Because I'm bad at taking selfies with one hand, you've got two views of this. You need to put a bend in the ear wire so we can start making the wrap area. In the longer side, about 1/4" down from your bend, make a hard bend using your needle nose pliers. Picture 3 shows a much better picture.
4) Now make another hard bend in the metal. Put your needle nose pliers flush with the first bend you made and bend again. This is where your loop will start.
5) Grab your round nose pliers and form your loop.
6) Grab the loop with your flat nose pliers and start wrapping like you did in step 4 and 5 when we were
making charms
. Make sure you wrap until you're flush with that first bend you made.
7) Snip the excess wire off. Try to snip as flush as possible because we're going to wrap the rest of it, so you don't want to have too much extra to wrap.
8) Adjust the way the ear wire looks. If you think the loop is too big, fix it. This is all aesthetics, so take your pick as to what you want your earwire to look like.
9)
Optional!
Use your flat or needle nose pliers to make a final bend in the end of the ear wire. I like this because it's one more obstacle for gravity to overcome if your earring is going to fall out. If you don't like how this looks, don't do it.
10) Sand the end of your earwire. If you've been using wire that's been flush cut, the likelihood is, you're not going to want to stick that in your ear. So sand it down and it won't hurt when you put the earwire in.
11)
Optional!
If you want to make your earwire stronger, you should pound it with a mallet. Long story short, this shocks the "sea of electrons" around all the metal atoms and makes it more rigid. Yea, I'm a chem nerd. After you've made your earwire stronger, make a matching one!
I kid you not, these took me 5 minutes to make WHILE taking pictures, so it's super quick and easy!
------------------------------------------------------
Now that you've made some really awesome earwires, come meet Marquis!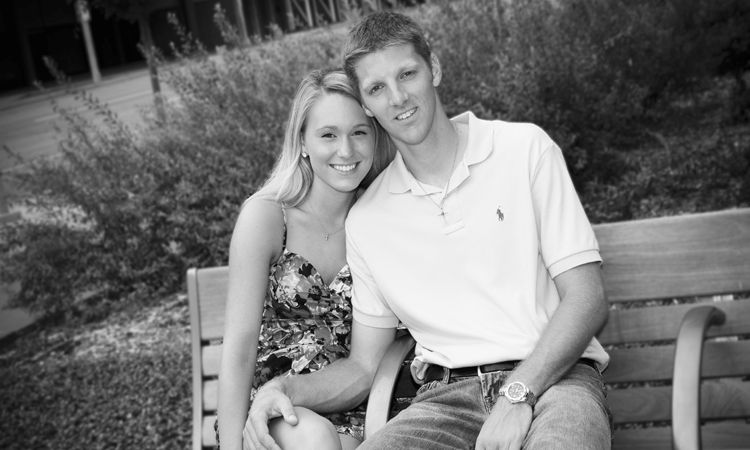 Marquis is the beautiful face behind Simply Clarke. Not only is she gorgeous and amazingly sweet, she's also more than willing to embarrass herself
vlogging
...
TWICE
. Oh what I would have given to see the look on those Victoria's Secret employee's faces! Not only did this make me fall in love with her, but I'm also kinda happy that I have a crazy morning person to email back and forth with. I swear, I can email her at 5 am and she's awake!
Her love for her husband is so apparent and she reminds all of us
how important our attitudes in relationships are
. In addition, she's very strong in her faith and even keeps a
prayer journal
, which is not only amazingly wonderful in it's content, but also is so stylish!
Speaking of style, she has a
design business
doing blog design, so if you're looking for a new design, check her stuff out! Clarke Creative has a large clientele of amazing bloggers and I'm sure she'd love to add you to the list!
Drop in and say hello to Marquis!